About Us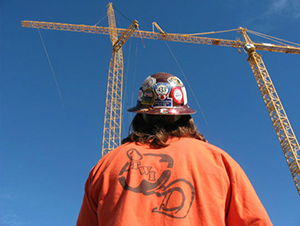 Founded in 1995, Total Welding Inc started as a full-service welding company with small welding jobs & undersized limits on what size jobs to accept. After working to become one of Denver's elite structural welding firms, Total Welding Inc. narrowed its focus even more to a niche with a storied past, rich with tradition, Structural Steel Erection. As members of Ironworkers Local 24, Total Welding Inc. joined a brotherhood of tradesmen with a long history of building America's skylines. With sights set on the skyline of Denver and the Front Range Total Welding Inc began to work tirelessly at becoming the best of their trade. With great people and lofty expectations, it didn't take long to rise above the competition. Total Welding is firmly established as the premier AISC certified steel erector in the state of Colorado.
Total Welding is fully insured and bonded as well as an active member of the AFL-CIO local union ironworkers #24 and has been a 100% union company for over 12 years. Our work history includes a wide variety of projects ranging from miscellaneous metal jobs to large, complex structural jobs, in excess of 3,000 tons. Some of our more noteworthy projects include:
Denver Broncos Indoor Practice Facility Centennial, CO Completed 2014.
13th CAB Control Tower: Ft Carson, CO. Completed 2013.
Childrens Hospital: Highlands Ranch, CO. Completed 2013.
Traer Creek: Avon, CO. 750 Tons. Completed 2005.
13th CAB Hangar: Fort Carson Army Base. Colorado Springs, CO. 1900 Tons. Completed 2013.
Ameristar Hotel/Casino: Blackhawk, CO. 1,500 Tons.
Project Red Square: Downtown Denver, CO. 2,000 Tons.
Battle Mountain HS: Eagle County, CO. 1,500 Tons.
West Wall Lodge: Crested Butte, CO. 1,100 Tons. Completed 2003.
Belmar 6M2 & GM3: Lakewood, CO. 1,200 Tons. Completed 2004.
Invesco Field @ Mile High Stadium: Denver, CO. 500 Tons (Misc Metals). Completed 2001.
Durango Elementary & Middle Schools: Durango, CO. 750 Tons. Completed 2002.
Prairie Waters: Aurora, CO. 1,500 Tons.
Our project history reflects the exposure and multifaceted experience we have acquired. We value the reputation we have established in the field and the professional relationships we have cultivated through the quality we strive to provide. We look forward to opportunities in which we can display our skills and experience.